If you are looking to advertise your business online, then Google is the perfect place to start. What's more, new customers can benefit from a free $100 Google AdWords voucher when you create a new account.
Google AdWords vouchers are promotional codes that give the user free credit to redeem on Google AdWords. Google usually provides you between $50 to $100 free PPC (Pay-Per-Click) money on your new account. These vouchers give new users an opportunity to use AdWords without large investments.
Google provides free coupons only to the new users, one per new account and expires immediately after a single-use.
Basically, Google Ads will provide you $100 credit after you spend $25-$50. Given below are some of the best Google Ads Vouchers for you.
Google Official Voucher Site
Here is step-wise instruction to get your free voucher:
Godaddy: $100-$150 free Google Ads coupons
GoDaddy is the world's largest domain registration platform with 18 million customers all over the world and 77 million domain names. It also offers domain hosting, website building, and marketing services for business. So, GoDaddy might be your best option for Google Ads Voucher.
You can receive ad credit of $100-$150 and only valid for new Google Ads users.
Wix: Yearly premium plan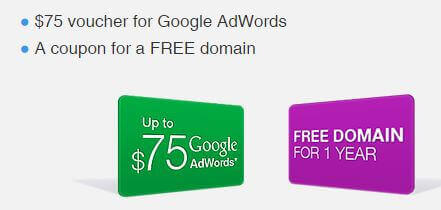 Wix is an easy, quick website builder site. If you are a Wix premium customer, then this can be your best option to get Google Ads Vouchers.
You can get up to $75 of ad credit and only eligible for new Google Ads users.
Hostgator web hosting
Hostgator is another leading website that provides website hosting services. You get $100 ad credit on $25 spent. This is valid only for new Google Ads users.
Squarespace
Squarespace provides every kind of services like domains, eCommerce, hostings, analytics, and website buildings. This is the best option where you can get all the services in one website.
You get $100 ad credits when you spend $25 and only valid for new Google Ads users. You need to apply for the credit within 14 days of Google Ads account creation.
Weebly: $100 ad credit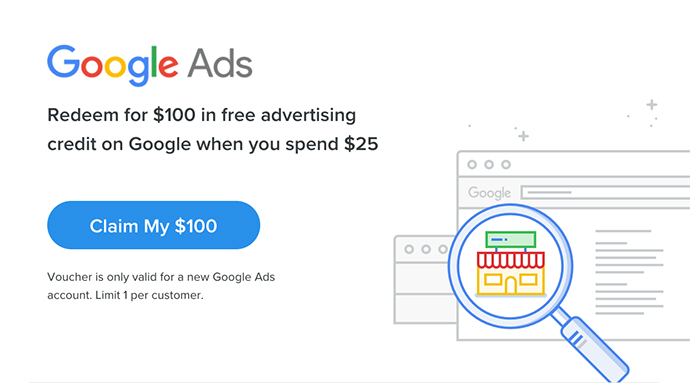 Weebly is a web hosting service for online purchases. It has currently more than 50 million customers all around the world.
You get $100 ad credit on $25 of spend. Also valid only for new Google Ads Users.
Top tips for starting on Google Ads for the very First time
Google Ads might be really confusing and complicated if you are using it for the very first time. Consider hiring a Pay Per Click agency to ensure your online advertising get of to a great start.
Remember these following tips when creating your new Google Ads account:
It's not just about one metric
There could be a problem If only one metrics is used while optimizing AdWords. For example, if only CTR is focused on drawing more clicks. Although you have high CTR rate, it is not necessary that you have best conversion rates.
For high conversion rates, you should analyze all of the main metrics into account and get a great balance between CTR and conversions at profitable cost per conversion.
Relevance is Key
Applying Google AdWords is all about relevance. There should be an appropriate amount of percentage of people that click your ads and the number of people who view your content.
This is beneficial for lower CPC (Cost-Per-Click), Higher CTR, and a higher position for lower prices.
Call-To-Action
CTA is something that you mustn't miss to add to your site. It is designed for an immediate response from the visitor on your site.
Some of the most popular Call-To-Action in AdWords are:
Call Today
Order Now
Contact Us Today
Book Your trip
Great landing page
Having an attractive and perfect landing page is another part of relevance website. Once the user enters your ad, the user needs to feel engaged and comfortable with your content.
Your landing page needs to have every possible solution that matches the user's queries and its necessary to have quality information.
Use of Negative Keywords
Use of Negative Keywords has become just as important as using regular keywords. It is an essential part of the AdWords campaign to get the right type of traffic.
A negative keyword will prevent your ad from being triggered if similar keywords are searched. This will lead to high conversion rate.
Use of Ad Extensions
Ad Extensions are the compulsory piece which you need to include on your Google Ads. The addition of Ad Extension increases your relevance on the Search Engine Result Page (SERP).
This has become a useful way to improve your Search Engine Marketing. It also helps in increasing visibility, personalization, lower CPC, and high CTR rate.
Bid Optimization to maximize ROI
Bid Optimization helps you to increase or decrease your keyword bidding according to your keyword rankings.
For Example, if one of your keywords is ranked on top of Search Engine Result Page then, you need to bid maximum amount of money on that keyword. But if your keyword is ranked low, bidding high money would be waste of investing.
Conclusion
Get a free Google AdWords free voucher coupons on your free account and get ad credits with profit.
Also, follow the tips given above before running Google AdWords for successful advertisement.