Online advertising is one of the best ways to promote your organization in today's internet-dependent world. Every company wants to maximize their online presence, particularly on Google.
However, for non-profit organizations, it is not easy or affordable to maintain their online presence, which can be both time consuming and expensive.
Fortunately, Google offers an advertising solution for these non-profit organizations, called Google Ad Grant and provides free advertising on Google.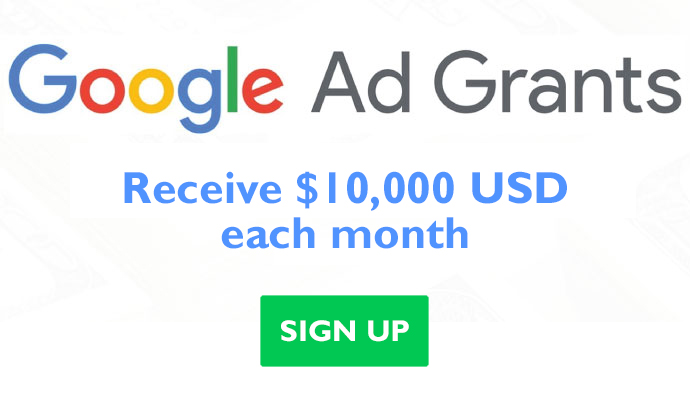 What is the Google Ad Grant?
Like other grants, Google Ad Grant provides $10,000 USD every month, to any qualified non-profit organization. These funds can only be used in Google Ads for advertising purposes only.
With the help of this grant, many organizations have seen improved performance relating to increased donations, recruiting new volunteers and much more.
Google displays these adverts on their search network. You would have seen these when you carry out a search on Google, these ads are labeled as 'Ad.' This is what separates the link from all other unpaid results.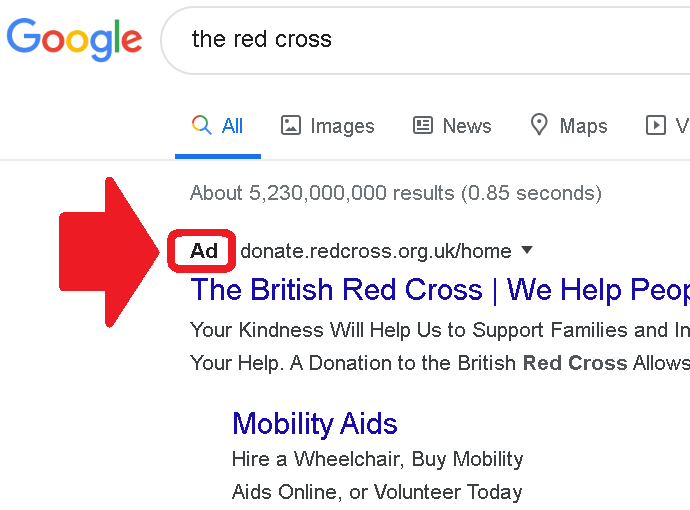 Google grants, non-profit organizations are eligible to receive a sum of $120,000 USD a year to spend on text adverts. Google not only displays the ad, but also ensures that there is a strong volume of incoming traffic to the website. This helps the organization bring in more donations due to the increased online traffic from Google.
Who Is Eligible For Google Ad Grants?
As mentioned above, this grant is provided only to non-profit organizations. However, there are some eligibility requirements regarding who can apply and receive the grant.
Consequently, a non-profit organizations who is interested in receiving a Google Ads Grant, must check if their organization falls under these qualifying factors:
Your non-profit organization must be a valid charity: The validation process is different depending on each country. For example, having a current 501(c)(3) status makes you a valid charity in the U.S.
Ad grants pre-qualification process must be completed after enrollment in Google for Nonprofits.
Any certifications concerned with nondiscrimination and donation receipt needs to be acknowledged and agreed to.
However, there are a few exceptions to the list:
Government establishments
Hospitals and other medical intuitions
Non-philanthropic educational institutions such as schools, colleges, universities or other academic bodies.
How can my non-profit organization become eligible for Google Ad Grants?
If your non-profit fits Google's eligibility criteria, then you need to ensure all mandatory requirements are up to date and properly maintained.
First and foremost, you need to ensure an authorized body validates your charity or non-profit. Google will not accept applications from any unregistered or non-validated organization. You must be approved by your country as a valid organization and registered with Google for non-profits as well.
Having an informative website is essential. The goal and mission of your organization should be clear to all visitors. Your Google ad will direct people to your website where you can increase traffic, awareness and donations. Therefore, having an optimized, user-friendly website is vital.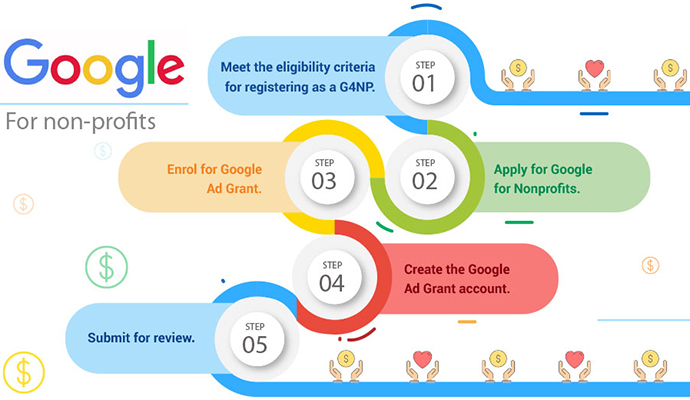 What are the account requirements for Google Ad Grant?
Now that we have covered who is eligible and what to look for if you are planning to apply. These are all the requirements set out by Google to get a Google Ad Grant.
Registering organizations: As covered before, your organization must be a validated practice by your country's government. It also needs to be registered with Google for non-profits.
Website maintenance: It is required to link the Google ad to your current up-to-date website, where the visitor can learn about your organization's missions and goals.
Minimum of two ad groups, each with two ads: Once an organization starts with Google Ads, they need to maintain a minimum of two ad groups, each with two adverts. Ad groups are defined by the different categories. For example, one ad group can be about fundraising, another for volunteering.
Negative keywords: These exclusion words help improve performance by preventing your advert appearing to irrelevant customers. They are also a part of Google best practice guidelines.
Geo-Targeting: This helps non-profit organizations target a specific geographical area, for your Google ads to appear in.
Site link Extensions: Allow visitors to navigate different parts of your organizations website quickly and easily.
Five percent Click Through Rate: A Click Through Rate is a measurement of how engaging your adverts are to your target audience. An important requirement is to maintain a minimum Click Through Rate of five percent over 30 days.
Account optimization: Regularly logging into the account to make improvements, update negative keywords and ads is required. A dormant account that has not been optimized over 30 days will have the Google Ad Grant withdrawn.
How can my non-profit apply for a Google Ad Grant?
Google awards several non-profit organizations across the globe with $10,000 USD to spend on Google ads every month. This can significantly increase traffic to your website and enhance the number of donations received.
However, to get there, you need to follow a set of steps and check through your eligibility.
Signup for Google nonprofits: Under this program, you may be required to produce documents such as tax ID, non-discrimination policies and associated documents.
Register your organization: You need to either register under Google Ads Express or Google Ads, once your account is registered, you can access your grant.
Create your Google Ads account: You can use a Google Ads agency to help build your organization's account in line with Google's best practice and polices.
Account review: Your account will need to be reviewed by Google prior to going live.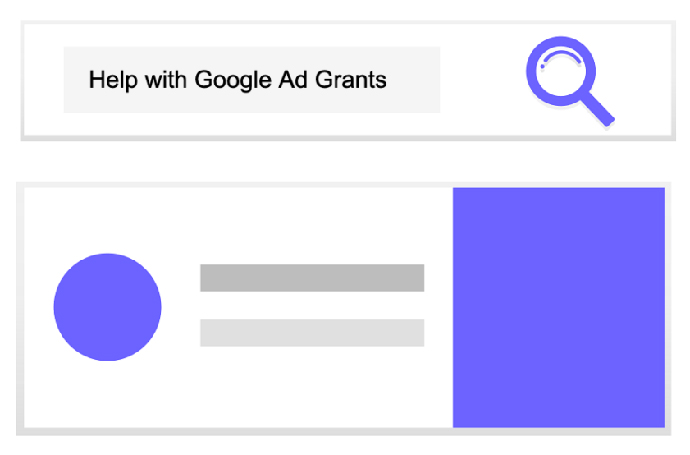 How to use Google Ad Grant?
Getting approved for the grant is the most challenging part of the process. Once approval has been granted you can utilize it in these three simple steps.
Hire a professional to maintain the account: You cannot leave the account dormant once it has been approved. The account needs to be worked on regularly, failing to do so for over a month will cause your grant to be withdrawn.
Creation and planning of Ads: You need to have at least two ad groups. These ad groups are there to manage and organize different types of ads. You can have one for charitable purposes and another for raising donations for the organization. Each ad group must contain a minimum of two ads.
Analyze and improve performance: Google Analytics is recommended with Google Ad Grant to successfully run your marketing campaigns. You must be able to see how the Google Ads and grant are helping your organization. Google Analytics makes it easy to analyze this and helps by identifying which ad is bringing in traffic and those that aren't.
Can Google Ad Grants eligibility be lost?
Your grant eligibility can be lost if you don't follow the criteria covered above. This would cause Google to temporarily or indefinitely suspend your account.
By maintaining the following steps you ensure you will continue receiving the Google Ad Grants.
Ongoing maintenance: Your account needs to be active for Google to award grants. Ensure your marketing department logs into the account at least once a week and updates it every 30 days.
Ad relevance and geo-targeting: Your ads should reflect the cause of your non-profit organization and target the correct geographical location.
Keyword evaluation: Optimize your keyword list and carry out Google's keyword performance report once a month.
5% click through rate policy: To enhance user experience and relevance, your account needs to have a minimum of 5% click through rate.
Conclusion:
Google Ad Grant is a fantastic initiative for all charities that can increase exposure and make a real difference. Whether you're looking to increase volunteer sign ups, raise awareness or simply boost donations, Google Grants is an essential marketing opportunity for all non-profit organizations.
Get in touch with Addicted 2 PPC so we can help with your Google Ad Grant.